Inventory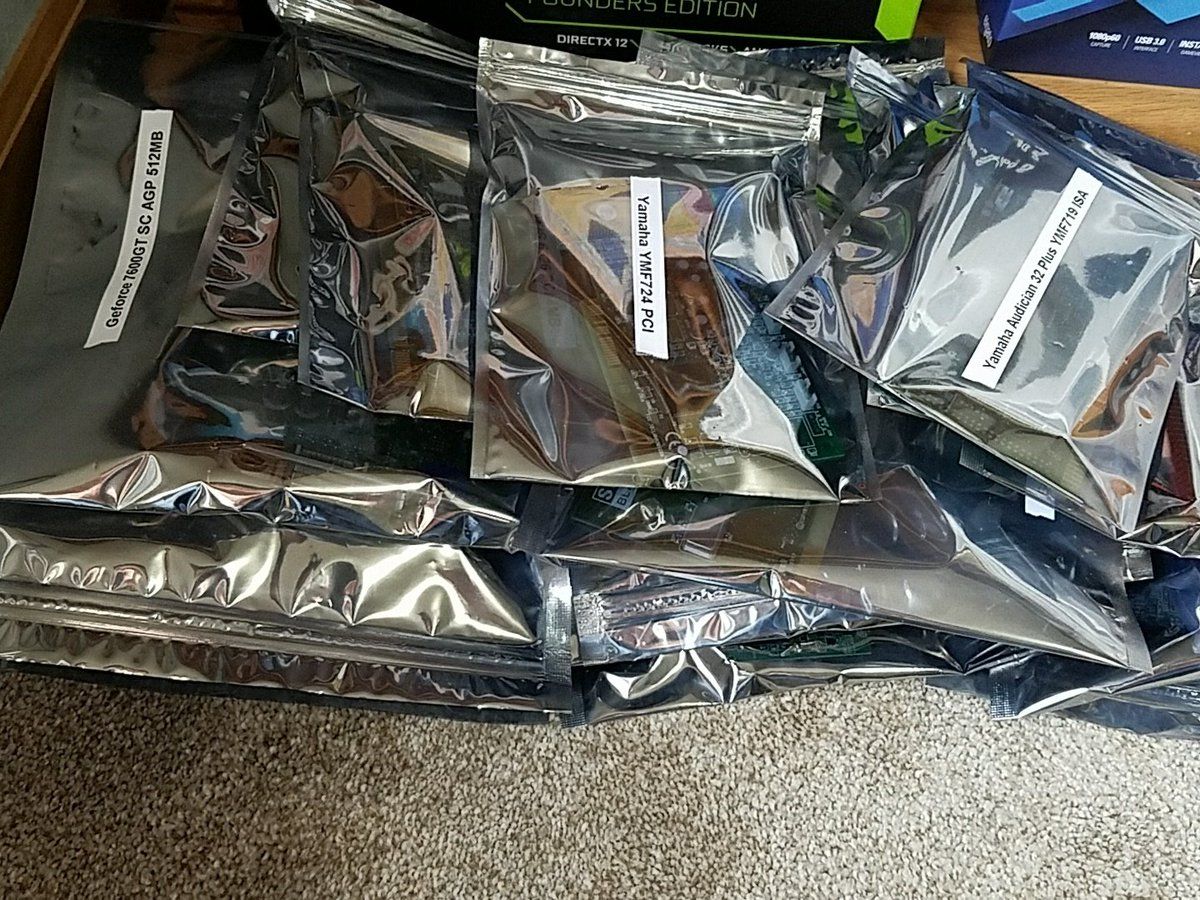 I've accumulated a lot of (retro) computing gear over the last few years while doing research.
I don't need to keep all of it; much of it was obtained specifically for said research. So, if there's something below that catches your eye, please e-mail me and perhaps we can work something out. Alternatively, you may contact me via DM on Twitter.
Here's my current inventory. Items that are italicized are in use but can still be offered for. Items that are stricken are sold to someone else, and are awaiting confirmation.
CPUs

Socket 7
Socket 370

Celeron 633/128/66/1.65V (SL3VS)
Pentium III 933/256/133/1.7V (SL4C9)

Socket A

Athlon A1333AMS3C
Athlon XP 2000+ AX2000DMT3C
Athlon XP-M 2000+ AXMD2000FJQ3C
Athlon XP 2400+ AXDA2400DKV3C
Athlon XP 2500+ AXDA2500DKV4D
Athlon XP 2600+ AXDA2600DKT3C
Duron 700 D700AUT1B
Geode NX 1500 ANXL1500FGC3F
Geode NX 1750 ANXS1750FXC3F

Socket 478

Pentium 4 1.70/256/400 (SL5TK)
Pentium 4 2.40/512/400 (SL65R)
Pentium 4 2.66/512/533 (SL6PE)
Pentium 4 2.80/512/400 (SL7EY)
Pentium 4 2.80/512/533 (SL7D8)
Pentium 4 3.00/512/533 (SL6PG) (x2)
Pentium 4 3.00/1M/800 (SL8JZ)
Pentium 4 3.40/1M/800 (SL7PP)

Socket 775

Celeron 450 2.20/512/800/06 (SLAFZ)
Core 2 Duo E6600 2.40/4M/1066/06 (SL9ZL)
Core 2 Duo E7300 2.66/3M/1066/06 (SLAPB)
Core 2 Duo E7500 2.93/3M/1066/06 (SLGTE)
Core 2 Extreme 6800 2.93/4M/1066/05B (SL9S5)
Core 2 Extreme QX9650 3.00/12M/1333/05B (SLAN3)
Pentium E6500K 2.93/2M/1066/06 (SLGYP)
Pentium E6700 3.20/2M/1066/06 (SLGUF)
Xeon E5450 3.00/12M/1333 (SLBBM, 775 mod)

Socket 939

Athlon 64 3200+ ADA3200DAA4BW
Athlon 64 FX 60 ADAFX60DAA6CD

Socket AM2

Athlon 64 X2 5200+ ADO5200IAA5DO

Motherboards

Socket A

Iwill KK266+ (KT133A)
QDI KinetiZ 7T (KT133)
Soltek SL-75KAV (KT133A)

Socket 478

QDI PlatiniX 7LI/C-AL (845GL/ICH2) (x2)

Socket 775

AsRock 775i65g (865G/ICH5)

Sound Cards

ISA

Atrend ATC-6631 (YMF719E-S)
Aztech MMSN824 (AZT2316-S)
Aztech MMSN853 (AZT2320)
Aztech MMSN855 (AZT2320)
Creative Sound Blaster Pro 2 CT1600 (039151)
Creative Sound Blaster 16 CT1740 (049251)
Creative Sound Blaster 16 CT2290 (049513)
Creative Sound Blaster AWE32 CT2760 (039436)
MediaVision Pro Audio Spectrum 16 Basic
Yamaha Audician 32 Plus (YMF719E-S)

PCI

Creative Sound Blaster CT4740 (039939)
Creative Sound Blaster Live CT4830 (019928)
Labway Xwave 6000 (YMF754)
Turtle Beach Montego II (AU8830A2)
Yamaha DS-XG (YMF724)

Video Cards

VLB

Cirrus Logic CLVGA542XVL/H (1MB)

PCI

3dfx Voodoo 2 (8MB, Diamond 23150105-005)
3dfx Voodoo 2 (12MB, STB BlackMagic)
ATi 3D Rage Pro (4+4MB)
Nvidia Geforce 2 MX 400 (32MB, Jaton)
Nvidia Geforce GT610 (512MB)
S3 Trio64V2/DX (2+2MB)
S3 Virge/GX (2MB)
S3 Vision968 (Diamond Stealth 64 2MB)
SiS 6326 (4MB)

AGP

3dfx Voodoo 3 3000 (16MB, Compaq OEM)
ATi Radeon 9200SE (128MB)
ATi Radeon 9600 Pro (128MB)
ATi Radeon HD 4670 (1GB)
Nvidia Geforce 2 MX 400 (32MB, Pine)
Nvidia Geforce 3 (64MB)
Nvidia Geforce 3 Ti 500 (64MB)
Nvidia Geforce 4 MX440 (64MB)
Nvidia Geforce 5700 (256MB)
Nvidia Geforce 6600GT (128MB)
Nvidia Geforce 6800GS OC (256MB)
Nvidia Geforce 7600GT SC (512MB)
S3 Savage4 Extreme (16MB, Number Nine)
S3 Savage4 Pro (16MB, Diamond)
S3 Savage4 Pro (16MB, Manli)
STMicroelectronics Kyro II (64MB, Hercules 3D Prophet 4500)

PCIe

Nvidia Geforce 7300GS (256MB)
Nvidia Geforce 7900GS (256MB)

IO Cards

VLB

Vesa QD6580W I/O Controller

PCI

Opti FireLink BG-3800-00 (USB)
Promise Ultra133 TX2 (2x IDE connectors)
Via USB Hub (VT6212L)

Modem/LAN

ISA

US Robotics CJEUSA-30429-MM-E

PCI

Conexant MW560CI
Intel PRO/100 Ethernet (EJMNPDALBANY)